Regular price
Sale price
$59.95
Unit price
per
Price
Sold out
VENZEO for PETS employs naturally occurring, cleaned & filtered zeolites to remove Industrial, Agricultural, Pharmaceutical, and Domestic toxins on a cellular level (allowing your pets organs & immune systems to perform unimpeded as intended by nature). 
Share
View full details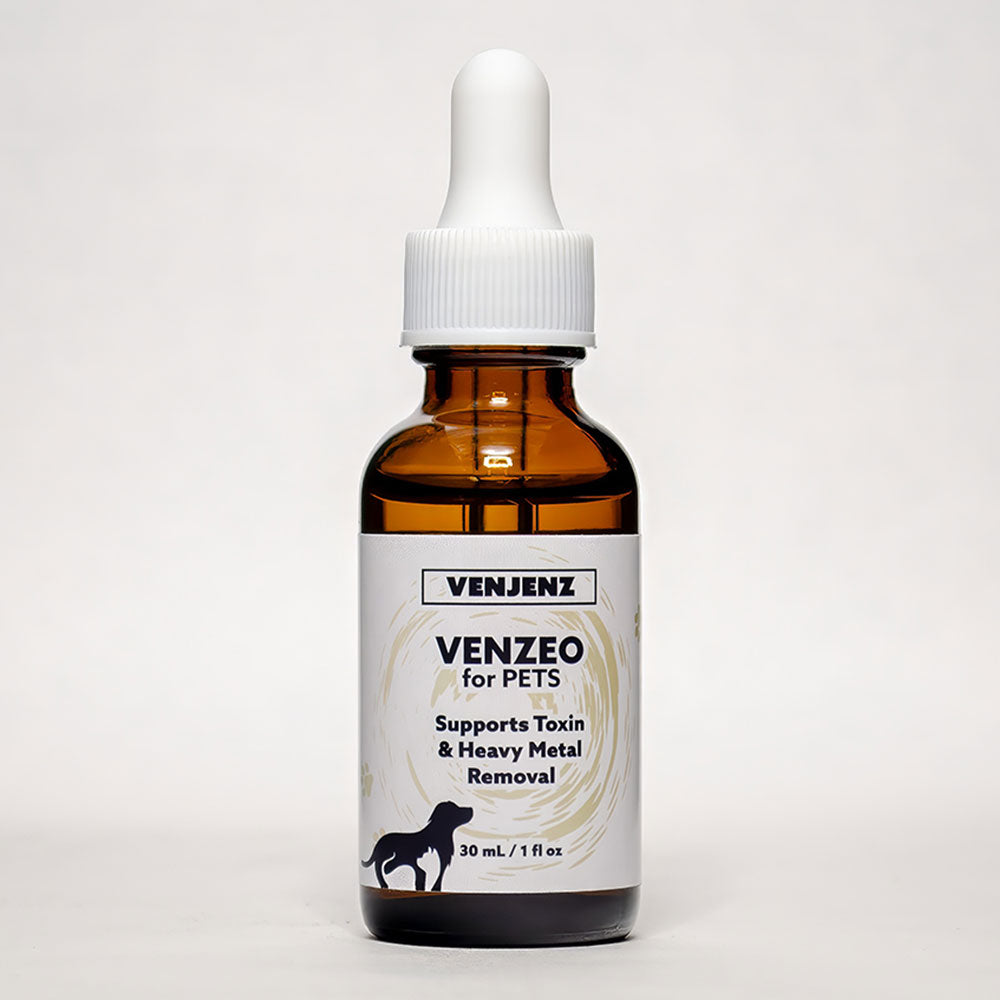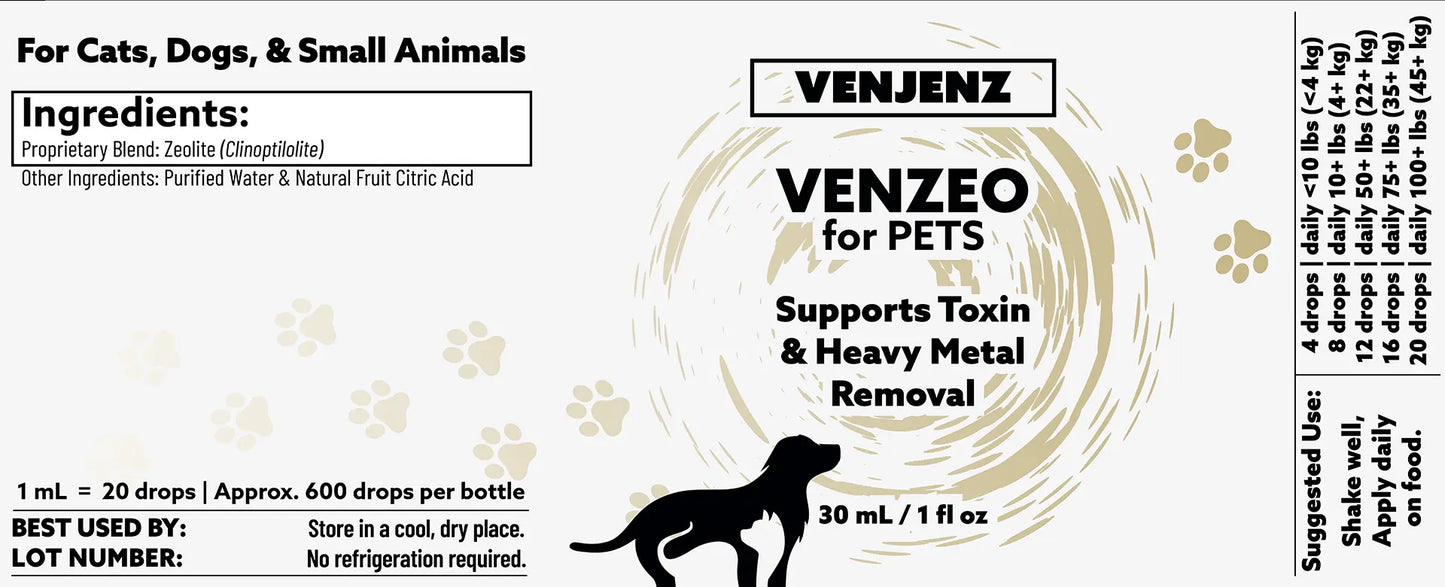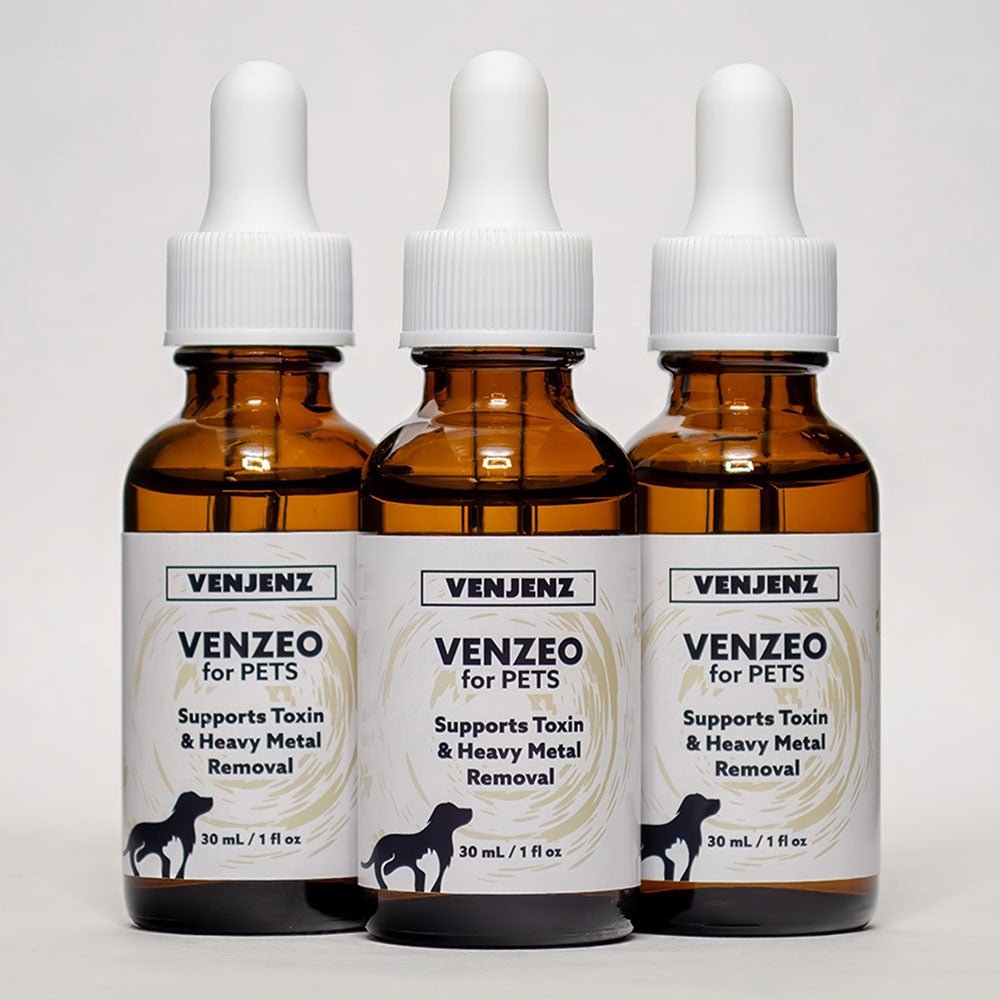 Proprietary Blend:

Zeolite (Clinoptilolite)

Other Ingredients: Purified Water & Natural Fruit Citric Acid

Suggested Use: Shake well, Apply daily on food.

Dosage
Usage
Weight
4 drops
daily
<10 lbs (<4 kg)
8 drops
daily
10+ lbs (4+ kg)
12 drops
daily
50+ lbs (22+ kg)
16 drops
daily
75+ lbs (35+ kg)
20 drops
daily
100+ lbs (45+ kg)
pipette = approximately 20 drops
1oz (30ml) = approximately 600 drops

First time users: Start half dosage for first two weeks.

Can double or triple daily dosage if health is compromised
CAUSES

Everything from the air we breathe being polluted with fumes from factories that release cancer causing chemicals, to water being contaminated with pesticides and heavy metals, even many commonly sold pet foods have been contaminated for decades with toxic byproducts as a starting source, including pentobarbital, the same drug vets use to euthanize animals. Even living around or close to Farms, Golf Courses and Airports can increase the toxins that are entering your pet's body due to the pollutants given off, pesticides and herbicides being used and sprayed.

Domestic

Out-gassing chemicals from synthetic carpets, pressed wood flooring
Common household cleaning products
Use of inferior eating & drinking vessels made with plastics and steel sourced from outside of The United States that emit BPAs and phthalates
Mold and fungal toxins
Radon
Common lawn treatments
Tap water contaminated with herbicides, pesticides, pharmaceuticals, microplastics and heavy metals
Toxins such as heavy metals, neurotoxins, and toxic byproducts such as pentobarbital, and phenobarbital found in pet food pet food

Agricultural

As with our own food that gets contaminated with insecticides, herbicides, pesticides, and other toxins so does our pet's food, and the food they eat gets absorbed at a much faster rate than ours. Our pets are also closer to the ground, so pesticides, herbicides, and insecticides, like those sprayed onto golf courses and farms, are constantly being picked up by them on their paws and ingested when cleaning themselves

Industrial

Pollution in our air from automobiles, factories, airplane fuel, rained down from SAI's (Stratospheric Aerosol Injections), and found in synthetic fertilizers seep into the ground and ultimately get picked up and absorbed by our pets.

Industrial

Heavy metals from pharmaceutical interventions such as vaccines and drugs
Pet vaccinations that are considered routine can cause both short and long term side effects and the severity of these side effects have dramatically increased
Toxins and pesticides in flea, tick & heartworm treatments

EFFECTS

Bioaccumulation of toxins in the organs lead to illness and life-threatening disease such as:

Compromised immune systems leading to life threatening illnesses
Acute illnesses such as influenza, respiratory infections, sinus & ear infections
Chronic illnesses such as asthma, cancer, chronic fatigue, and diabetes
Bioaccumulation (toxic buildup in the organs including the brain)
Burden your pets systems decreasing their energy, vitality, and ability to fight pathogens
Contribute to chronic inflammation in your pet
Cause changes in your pet's energy and overall well-being
Cause an array of problems for your pet's vital organs such as their liver and kidneys
Canine & feline kidney disease aka CKD (chronic kidney disease)

SOLUTION

With the naturally occurring zeolite in VENZEO for PETS being micronized it can be absorbed through the mucous membranes of the mouth and through the surface of the skin via our liquid delivery system. Giving your pet zeolite in micronized liquid form is far superior to the traditional powder, pills, or capsules because it bypasses their compromised digestive system and is instantly absorbed ensuring 100% bio-availability and delivering every cent worth of value.

Removes toxins, harmful chemicals, heavy metals and free radicals from your pets body
Relieves allergies, act as an antioxidant, and aid liver function
Restores pH balance
Reduce inflammation
Diminish/relieve lactic acid build up
Help balance your pets pH levels
Help to normalize blood pressure
Protect the brain and liver from bioaccumulation of toxins
Cat bite
My dog got a horrible infection from a cat bite and had to go on IV antibiotics, which at 8 she has never had in her life. I am mostly holistic but in this case had to be done or she would have likely died because the bite was to the face. This product was to help detox her from the 20 days on three different antibiotics.
Seems to be working
I've been giving my 16lb dog around 7 drops a day. Have a problem getting him to take it but I manage. One thing I've noticed is his eyes no longer run. Other than that I haven't noticed any difference in him.
My senior dog's energy is back!
I'm using all three products from Venjenz, so I'm sure all three products are working together to make this happen, but my almost 13 yr old Boston terrier's health was declining past few months and I wanted to support his health before his eye removal surgery. I continued with all three products after the surgery and it's been almost 30 days since he is on Venjenz products and 3 weeks from his eye surgery. And the difference is profound. He couldn't play more than 5 min before the eye surgery but now he can play until I stop, after about 20-25min. I'm afraid to let him play longer because he has arthritis, but it is noticeably better. I tried other joint supplements before and nothing seemed to have worked, but this time is different. So glad to find you!!
Proven Results
I initially purchased QFR Detox for my 16lb domestic shorthair cat, who was diagnosed with beginning stages of kidney disorder. I do not advocate alopathic medicine, for humans or otherwise, or accept their terminal diagnosis. I prefer Chinese veterinary medicines approach, that when csught and treated early enough through herbal remedies and diet, conditions can be revetsed. My cat has been on a series of herbal remedies, and has a specific raw whole prey diet of low phosphorous meats, combined with QRF Detox. I have not had new labs to confirm his results, however my sister has Lupus, kidney disorders among many other autoimmune illnesses. I sent her a subscription of the human version. Her labs prior were very bad, and very high above the acceptable ranges. After just one bottle, her retest lab results were normal ranges across the board. She is on her 2nd bottle. Her results are a testament to this product, and I'm sure my cat's next labs will confer.
QRF Detox for 17 old cat with kidney disease
I thankfully found your product via a link on the website of DVM Will Falconer of Texas and I believe it has helped my 17 yr old cat with kidney failure. I have been using QRF Detox for approx a year now and my kitty has remained active and a good weight. I still give him daily sub-cu fluids as well, but there has been a continual marked difference in his activity and apetite on the QRF. I am convinced and will keep him on it for the remainder of his life. Very happy:)